Automotive & spare parts industry at Jafza

Spread over 1.33 million sqm of combined facilities, the automotive, spare parts, and aftermarket industry at Jafza is home to businesses from everywhere in the world.
The automotive industry in the Middle East follows an 'import only' model, also adopted by Jafza in a community that supports competition in a diverse, inclusive environment, which alone is home to 629+ businesses from 70 countries, employing over 7,900 people. It is a part of Jafza's ecosystem which, thanks to the sturdiness of its robust logistics infrastructure, continues to contribute to the automotive industry in the United Arab Emirates, a major, fast-growing consumer market in the Middle East.
Our facilities have all been designed to provide easier and smarter trading, from our container freight station to the canal that facilitates the passage of cargo or the new multi-tier parking facility. The facility has the capacity to hold 27,000 car equivalent units (CEU), making the Port of Jebel Ali the industry's 11th largest worldwide and the largest in the Middle East.
Looking to setup a business in the Automotive industry?
Come talk to our team of experts and let us guide you on your journey to start or grow your business in the Automotive & Spare Parts industry
TRENDS & OPPORTUNITIES
A competitive market with high potential and a higher value
The UAE's automotive, spare parts, and aftermarket industry has been witnessing an increasingly steady growth for the past few decades. Thanks to its reasonable fuel costs, tariffs, and tax rates, the UAE has succeeded in building a resilient and efficient infrastructure for the automotive, spare parts and aftermarket industry.
As of 2019, around one billion motor vehicles have been sold worldwide, over 70% of which were generated by passenger cars, while an increase of over 17.6% in the UAE's automotive sales has been witnessed in March 2021. At the same time, the global automotive production is projected to grow from 100 million units in 2025 to 117 million units by 2030.
The absence of unnecessary regulatory restrictions and limitations on vehicles facilitates the purchase process on the corporate and individual levels. It has similarly allowed the country to expand more on innovation and development, such as being the first country in the MENA region to open a hydrogen-fueling station in alignment with its environmental plans. Other automotive-related plans of the UAE include a 25% transition plan to autonomous vehicles in Dubai by 2030, which the city is now implementing through its self-parking cars.
"Connect, network and operate as part of Jafza's centre of excellence"
Jafza is among the world's best locations to establish your business and see it grow.
USD 381 M
The UAE's e-commerce automotive aftermarket was valued at USD 318.2m in 2020 and is expected to grow at a CAGR of 14.8% in 2020–2025.
8.4%
The forecasted year-over-year growth is estimated at 8.4% for the UAE, based on the Q3 2021 analysis.
USD 39.49 B
The forecasted value of sales in the Middle East's automotive aftermarket sector is estimated at $39.49 billion by 2024, with the sales of tyres contributing 26% of that value.
Over 629 Jafza companies operate in the automotive, transport, and aftermarket industry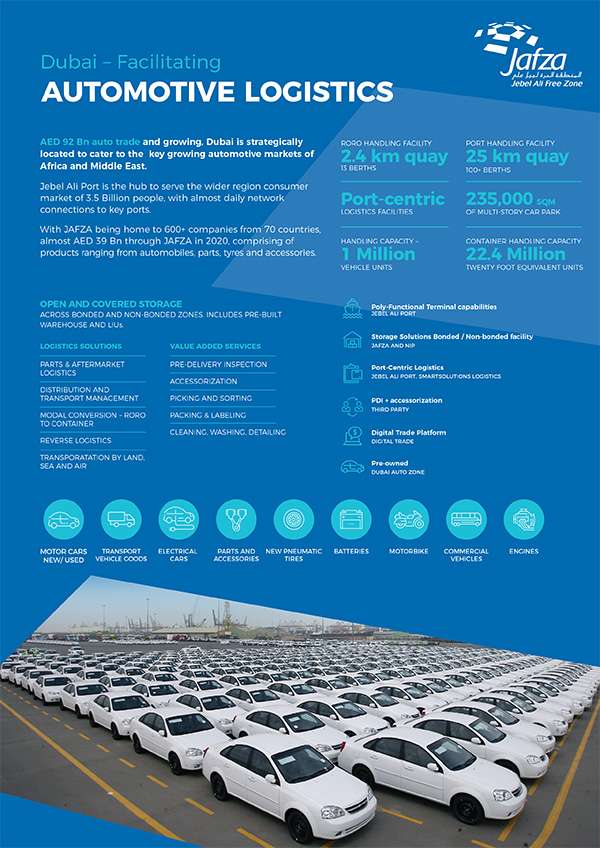 2021 Facilitating Automotive Logistics at Jafza
AED 92 Bn auto trade and growing, Dubai is strategically located to cater to the key growing automotive markets of Africa and Middle East. Learn more from the DP World Automotive Logistics report of 2021.
Download now
Jafza is designed to meet the specific needs of the Automotive industry
Looking to set up your business with Jafza?
Schedule a call with Wasim Wahba, Relationship Manager at Jafza.
Get started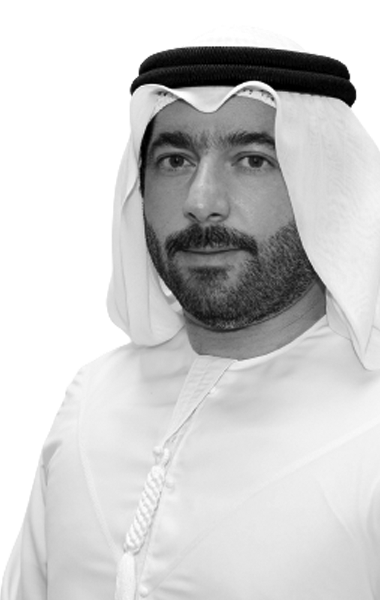 Explore other thriving industries at Jafza
scroll back to top