The story of FishFarm, salmon produced to meet local demand in the UAE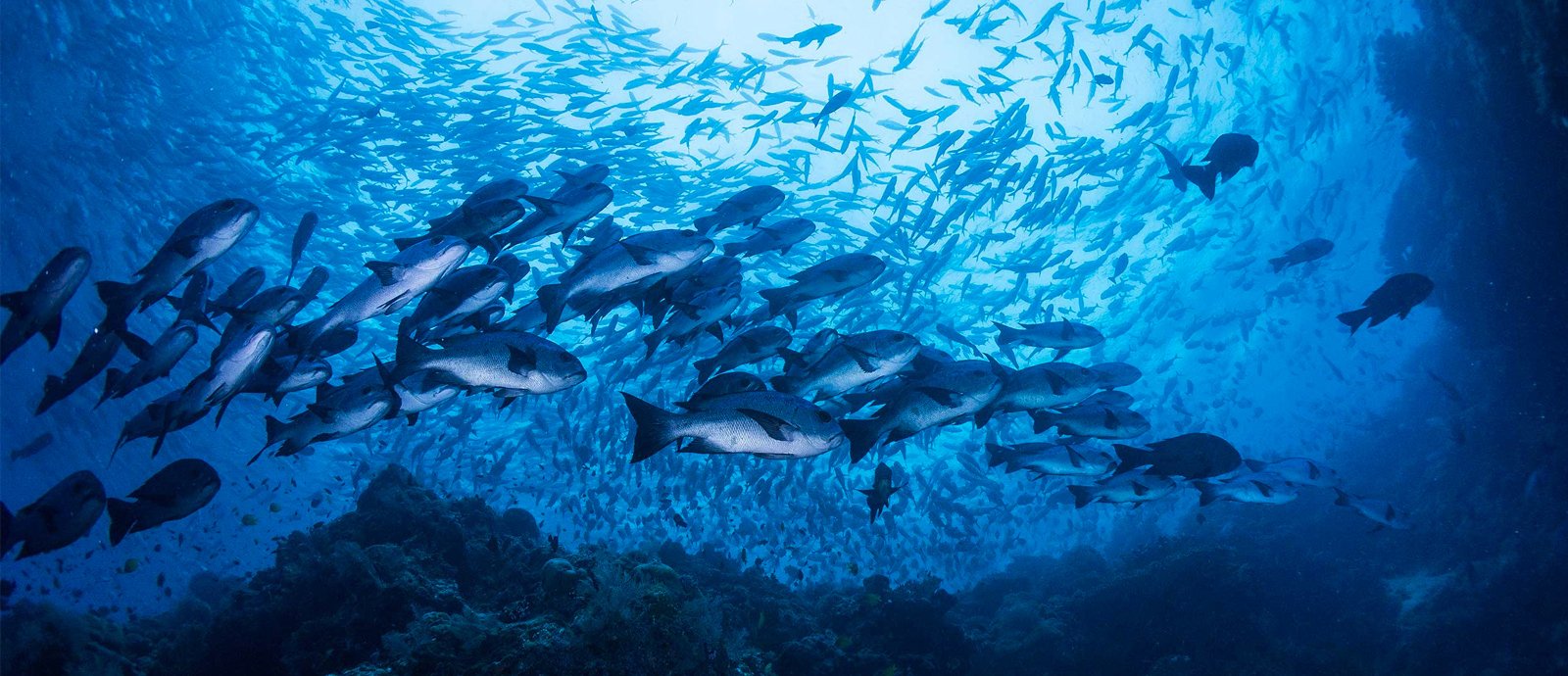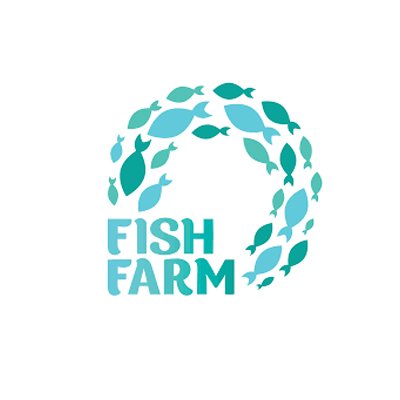 Fish Farm LLC, incorporated in 2013 with a recent inland facility based out of Jebel Ali, is planning to increase its production of organic, locally-farmed Atlantic salmon so that it can cover a big part of the region's demand. With a facility in Jebal Ali that has 34 tanks, Fish Farm produces over 3,000 tons of fish annually.
2013
established in the UAE
3,000+
tonnes of annual fish production
The story of Fish Farm
Fish Farm LLC rears highly nutritious royal Sea Bream, Sea Bass and Salmon in the UAE, thus supporting the local aquaculture industry and reducing dependency on imported seafood.
First opening its doors for business in 2013, Fish Farm focused on marine fish breeding and hatchery. It operates out of three dedicated facilities: a caged farming facility near Dibba Al-Fujairah, an Umm al Quwain coastal hatchery, and an inland site within Jebel Ali Free Zone (Jafza).
A bit of history
Bader Bin Mubarak, CEO of Fish Farm, had a clear vision in 2013. With his extensive experience in the marine industry, he understood the need for cultivating fish farming within the UAE as demand for meat kept increasing.
This increase in demand meant that imports would increase, which would indeed be a non-sustainable future. UAE supermarkets and restaurants import 100 per cent of the salmon they sell, and only about 8 per cent of all the UAE's fish is caught from local seas. Fish Farm's vision has implications for UAE's long term food security.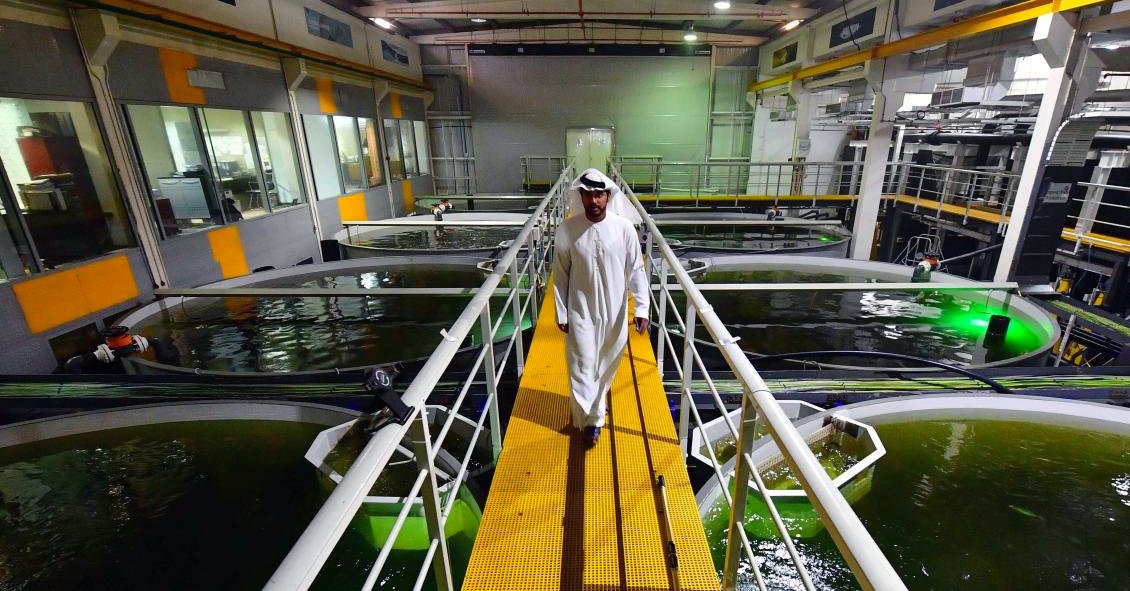 The cultivation of fish in the desert
Along with its facilities in Dibba and Umm Al Quwain, the inland facility at Jafza provides a closed containment system in which the fish breed in a controlled environment. This ensures that the fish's nutritional value, quality, and taste are the very best possible. Furthermore, by recycling water at regular intervals, the risk of disease is practically eliminated, providing consumers with delicious seafood and total peace of mind.
Salmon is the second most popular fish, after Hammour, consumed in the UAE. In November 2017, Fish Farm received 40,000 baby salmon from a natural hatchery in northwest Scotland and thousands more eggs from Iceland.
Fish Farm has thirty-four (34) tanks in its facility in Jafza, of which four (4) are used for salmon rearing. With diameters of 20 metres, the tanks are designed to mimic the salmon's natural lifecycle. The fish are born in shallow, freshwater rivers, then travel towards the coast as they mature, finally jumping into saltwater oceans when they are fully grown.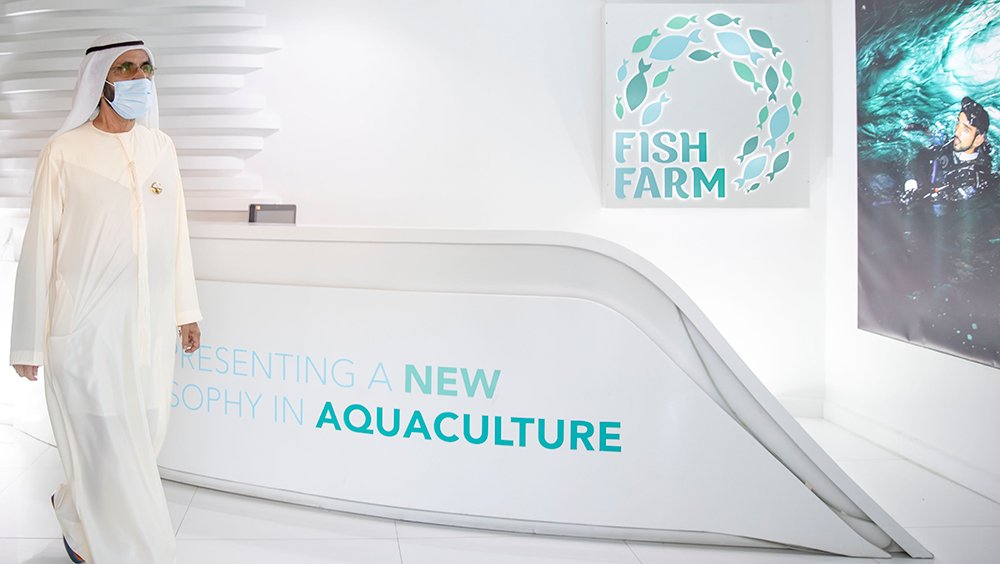 His Highness Sheikh Mohammed bin Rashid Al Maktoum, Vice President and Prime Minister of the UAE and Ruler of Dubai, visited Fish Farm in Jebel Ali as part of his effort to encourage domestic food, explaining: "Expanding domestic food production to achieve self-sufficiency is a strategic objective and one of the main pillars of the National Food Security Strategy.
"Food is a strategic commodity, and we look to young Emiratis to propose new ideas and projects to help further enhance food production. We have a clear strategy and sufficient resources to achieve our objectives. We are confident that we can generate practical solutions to achieve self-sufficiency."
State-of-art technology
Fish Farm invested in state-of-the-art technology to create artificial habitats for the salmon, from the freshwater 'river' tank to the saltwater 'ocean', controlling the temperate, tide, salinity and depth. In fact, it is the only salmon breeding system in the world with full environmental control. Bader Bin Mubarak, CEO at Fish Farm, who is also chief executive of Dubai Ship Building, a partner at Mubarak Marine and deputy chairman of Dubai Council for Marine and Maritime Industries, is the entrepreneur behind this venture.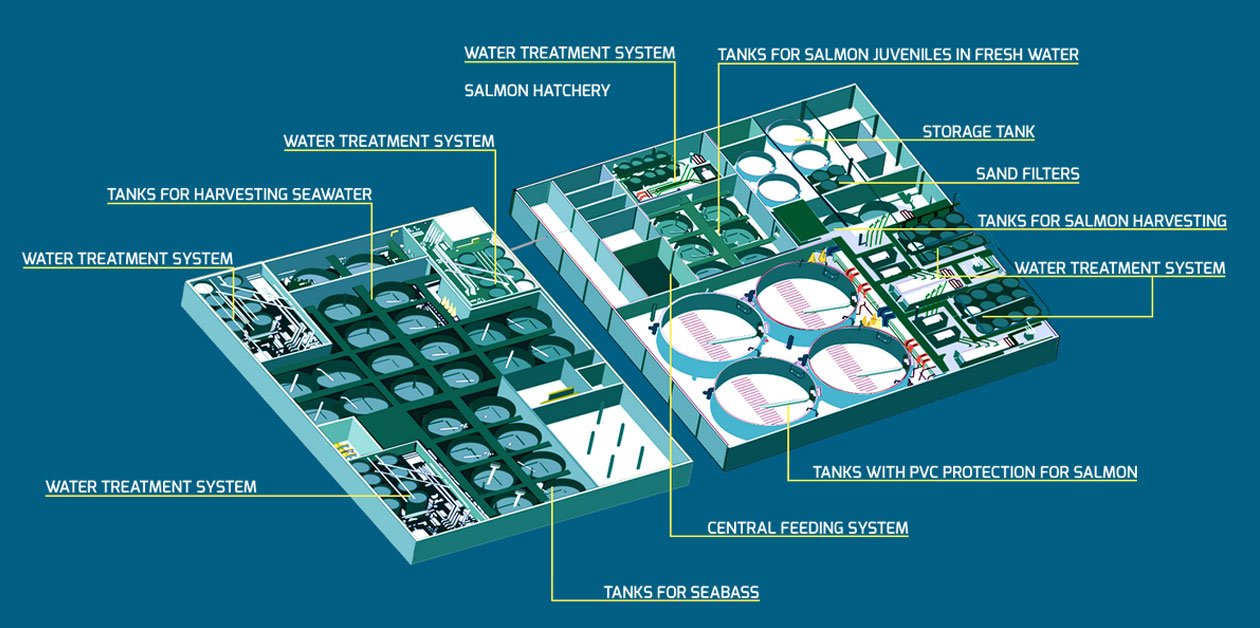 Jafza and Fish Farm
The facility of Fish Farm in Jebel hosts 34 tanks with state-of-art technology to manage the production of Royal Sea Bream, Sea Bass and Salmon.
Being part of Jebel Ali Free Zone (Jafza) and with access to Jebel Ali port, Fish Farm is geographically poised to be one of the world leaders in the fisheries sector, with its superbly organised transportation delivering fish both domestically and internationally, including merchants, after handling, sorting, storing, and packaging, while ensuring high quality of taste.
"Here in Jebel Ali, we have built and customized our facility to whatever we needed it to be. We control the temperature, tides, salinity and depth, create sunrise, sunset, automatic currents as if it's a river or sea, and make it as if we have a storm or calm weather.

It's the only salmon breeding system in the world with full environmental control. All of this has been possible with the support and ecosystem of Jebel Ali Free Zone."

Bader Bin Mubarak, CEO at Fish Farm LLC.
The future of Fish Farm
The baby salmon received in 2017 reached their optimal age for consumption and market readiness in 2020. Fish Farm exceed a production capacity of 3,000 tonnes annually.
With its expanding operations and vision to bring food sustainability to the region, the future of Fish Farm is bright! In 2019, Abu Dhabi's government announced it would spend Dh5.6bn to support research and development in water scarcity and food security as part of the Dh50bn Ghadan 21 economic stimulus package. Decision-makers within the United Arab Emirates emphasise the importance of producing food within the country to boost the nation's economic and environmental sustainability.
Fish Farm is well ahead in the game, and Jafza is committed to supporting the initiatives of Fish Farm for the foreseeable future.
About Fish Farm
Fish Farm LLC was incorporated in 2013 with a focus on marine fish breeding and hatchery to support the local aquaculture industry and reduce the dependency on foreign imported fish.
Headquartered in Dubai, Fish Farm has set up three facilities - a caged farming facility in Dibba, a hatchery in Umm al-Quwain and an inland farming facility in Jebel Ali. Reaching a production capacity of 2 million kgs in 2017, Fish Farm continues on a journey towards achieving global leadership in aquaculture.
| | |
| --- | --- |
| Industry | Food Manufacturing, Manufacturing |
Looking to set up your business with Jafza?
Schedule a call with Ebtesam Al Kaabi, Head of Sales at Jafza.
Get started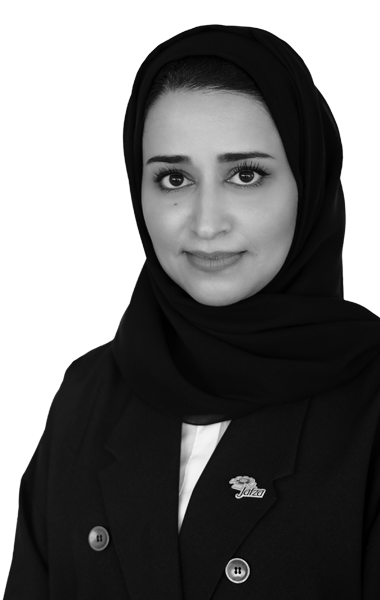 scroll back to top