UAE-Argentina Business Platform Launches Operations in Jebel Ali Free Zone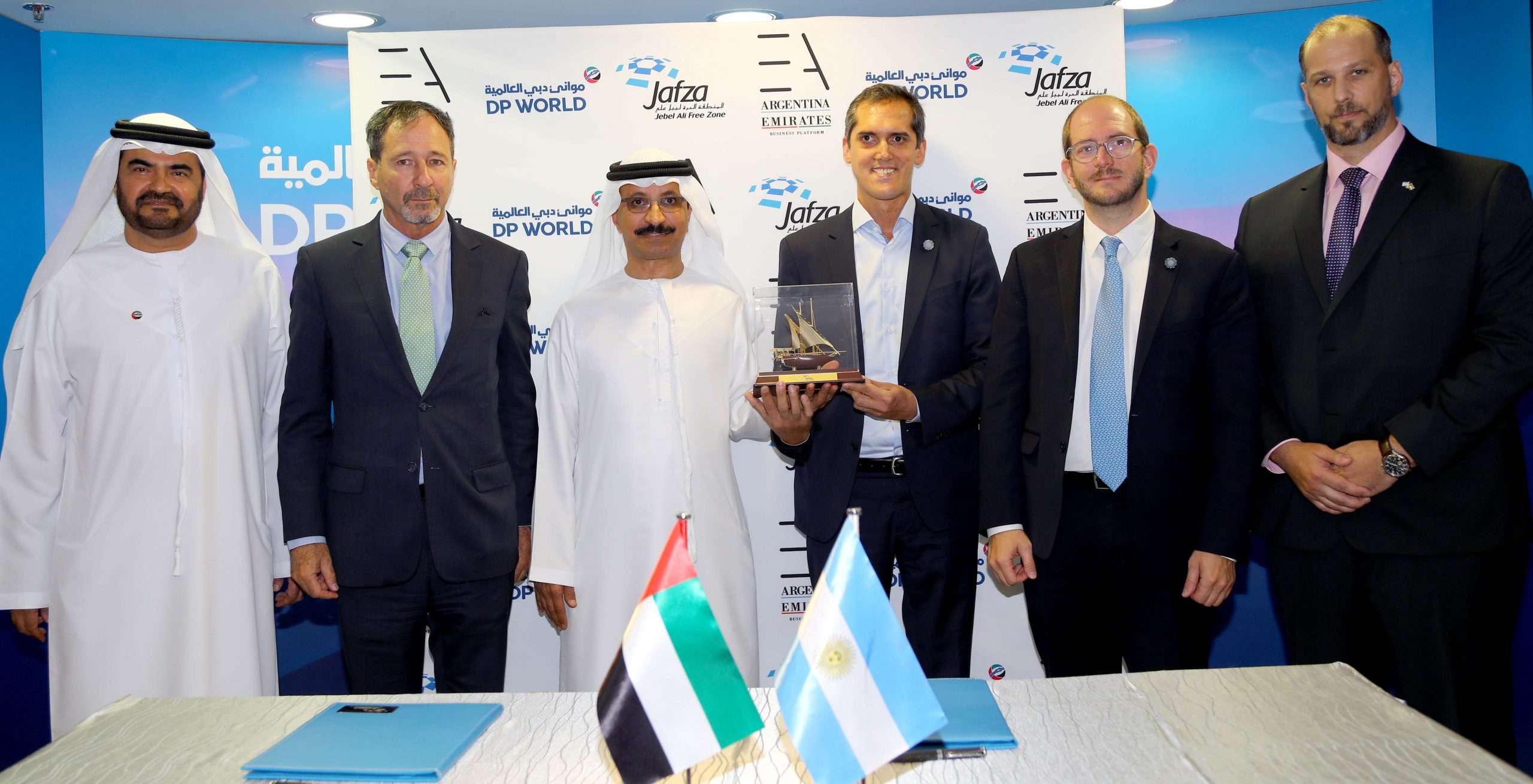 As part of efforts to strengthen trade ties between the UAE and Argentina, the Emirates Argentina Business Platform is to open its office in Jebel Ali Free Zone (Jafza).
The agreement follows a meeting between Sultan Ahmed Bin Sulayem, Group Chairman and CEO of DP World and Chairman of Ports, Customs and Free Zone Corporation, and Mr. Miguel Braun, Argentine Secretary of Trade and a high-level delegation visiting the UAE.
The meeting was also attended by Mr. Juan Caceira, President of the Argentine Federal Investment Commission, Mr. Fernando Martini, Argentine Ambassador to the UAE, and Gabriel Osatensky, Managing Partner of the Emirates Argentina Business Platform, and senior Jafza officials.
The Business Platform promotes commercial relations between the UAE and Argentina by connecting producers of goods and services with different types of consumers. The two sides discussed ways to cooperate and strengthen trade relations by enhancing the presence of Argentine companies through incentives and services provided by Jebel Ali Port and Free Zone.
Sultan Ahmed Bin Sulayem, Group Chairman and CEO of DP World, said: "This is a major milestone for DP World and Jafza in our long-established relationship with Argentina where we operate marine terminals. We thank our Argentine partners for choosing to base the Emirates Argentina Business Platform in Jafza recognising its growing importance as the region's top business enabler. With our strong presence across South America, Jafza is keen to build on enduring partnerships with Argentina and other Latin American countries. Our investments in Argentina make us an ideal partner with the ability to link markets, products, and commodities to MENA markets via Jebel Ali Port and the Free Zone. Our extensive reach and the UAE's strategic geographic location will help boost the competitiveness of Argentine goods in the region. We look forward to encouraging businesses in the UAE to communicate with counterparts in Argentina to establish beneficial commercial and industrial partnerships using the Platform as a bridge linking the two markets."
Gabriel Osatensky, Managing Partner of the Emirates Argentina Business Platform, said: "The Platform is the cornerstone for enabling the movement of Argentine products to UAE, Middle East and North African markets, encouraging cooperation between Argentine producers and local suppliers. From our new base in Jafza we will be able to help Argentine companies identify investment opportunities across the region and grow their businesses."
Commenting on how the idea of establishing the Platform came to live, Waleid Bin Abdulkareim, Co-founder of the Emirates Argentina Business Platform, said: "The recommendations of His Highness Sheikh Mohammed bin Rashid Al Maktoum, Vice President and Prime Minister of the UAE and Ruler of Dubai, during his tour of Latin America, in 2014, has led us to work towards achieving His Highness's strategic vision to open new markets and facilitate the exchange of economic benefits and natural resources, which is in the mutual interest of all countries and plays a role in maintaining the UAE statue in the world. Our efforts in the past three years have resulted in the establishment of strong trade relations with the Argentine Republic and the launch of the Business Platform crowns those efforts.
Jafza offers incentives such as exemption from import and re-export duties and seamless e-services making it easier for businesses to establish operations in the Free Zone.
Argentine companies trading in agricultural, meat and other food products can benefit from Halal certificates granted by the Standards and Metrology Authority following growing global demand for halal fish.
DP World operates Terminales Rio de la Plata (TRP) in the heart of Buenos Aires, handling containers, general cargo and cruise vessels. The company is also located in in Brazil, Peru, the Dominican Republic, Ecuador and Suriname.
Argentina is Latin America's third largest economy and has plans to strengthen its presence in the Middle East, especially in the GCC.
Share
Looking to set up your business with Jafza?
Schedule a call with Ebtesam Al Kaabi, Head of Sales at Jafza.
Get started