PEPPERL+FUCHS opens new office in Jafza One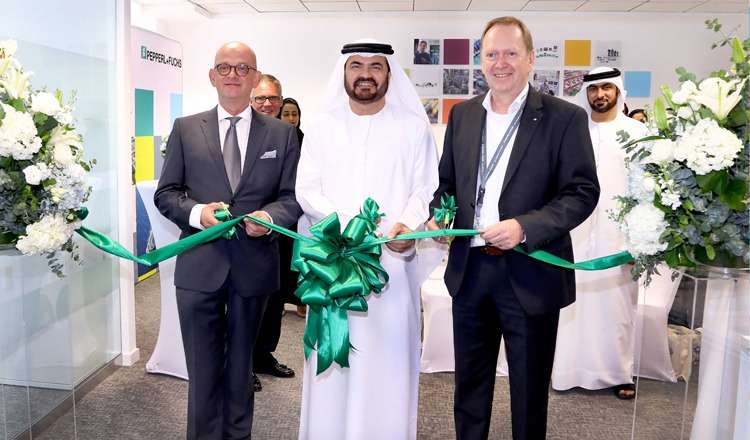 Jebel Ali Free Zone (Jafza), the Middle East's largest special economic zone, saw the inauguration of the new Dubai-based offices of the Pepperl+Fuchs Group, a global leader in manufacturing electrical explosion protection and sensor technology, at its state-of-the-art Jafza One facility.
The new office will serve as a sales subsidiary for the German company to market their products across the MENA region. The decision to base their offices in Jafza One underscores its value for large firms. Jafza One boasts an intelligent building design that provides all the necessities that the modern work place requires in the digital age. It offers over 100,000 sqm of office space, as well as numerous options for a conference center, a variety of boardrooms, and space for holding exhibitions.
Jafza One's world-class facilities and services have attracted numerous industry leading firms, including Acer, Daimler, Toyota, Samsung, and ExxonMobil.
Mohammed Al Muallem, CEO and Managing Director, DP World, UAE Region said:
"Our relationship with Pepperl+Fuchs goes back 15 years. They have become a valued partner with whom we work closely to bring about mutual economic prosperity for both our companies, as well as the UAE as a whole. Our relationship also serves as an example of the benefits of strong trade ties between the UAE and Germany. We look forward to working closely with Pepperl+Fuchs for another 15 years.
Al Muallem added: "The decision to relocate their office to Jafza One is a testament to our value proposition, and we are dedicated to maintain our position as the preferred free zone for leading multinationals in the GCC through constant innovation. Our holistic system, developed between Jebel Ali Port and our Parks and Zones, ensures our customers have access to the finest infrastructure in the region, and connects them to a trade network that reaches out to over three billion people in some of the most dynamic economies."
Rudolf Kaehny, Managing Director, Pepperl+Fuchs (ME) FZE, said:
"As a company that is pioneering digital transformation in our industry and spearheading the adoption of SMART business processes and operations, Jafza One is a perfect new base of operations for Pepperl+Fuchs in the Middle East. The facility's intelligent design and smart solutions and services closely align with our goals. We hope to work together with Jafza and serve as a leading example on the benefits of digitalization adoption and implementation for the UAE's private sector."
Kaehny added: "The opening of this new office and bolstering of our sales force underscores the business potential of the UAE and the region. Our industry leading insight and know-how, coupled with growth oriented vision through innovation and investment will allow us to maintain our position as a leading player in our sector, and allow us to continue providing our valued customers the world class support and solutions they have come to expect off us."
Pepperl+Fuchs first entered the Middle East market in 1996, and have based their regional offices out of Jafza ever since then. The company has gone on to become a leading distributor of electrical explosion protection and sensor technology that is used by many industries.
Share
Looking to set up your business with Jafza?
Schedule a call with Ebtesam Al Kaabi, Head of Sales at Jafza.
Get started