More than 3,000 employees from Jafza companies participate in Jafza Car-Free Day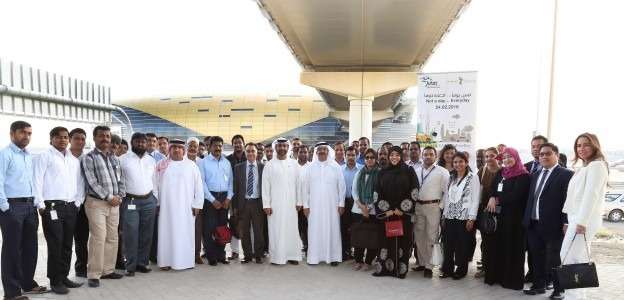 Jebel Ali Free Zone (Jafza), the flagship free zone business of Dubai and the trade and logistics hub for the wider Middle East region, organized a successful Jafza Car Free Day on February 24, 2016 to support sustainability and reduce carbon footprint.
Over 5,000 staff from the Jafza Community, including senior executives from Jafza, customers, government entities and stakeholders used environment-friendly public transport including the metro, bus to reach workplace in the free zone.
Jafza launched an extensive promotional campaign through the Free Zone and among its customers and other entities creating awareness on the significance of preserving the environment and reducing carbon emission.
Ibrahim Mohamed Aljanahi, Deputy CEO and Chief Commercial Officer, said: "Jafza has been a leader in adopting sustainability measures on our facilities. We want to facilitate preservation of our environment through a variety of initiatives that we are launching in this regard. The Care Free Day is one such initiative and we have joined hands with the Dubai Municipality to promote environmental awareness and best practices that will reduce the carbon footprint in line with the strategic plans of Dubai and in conformity with the highest international standards."
Aljanahi stressed that the adoption of the initiative in its first year has met with wide acceptance among the Jafza community and would continue to launch similar programmes that will benefit the society.
He added, "We are keen to promote green initiatives in our daily lives among the workforce at Jafza. The fact that we have over 3,000 employees from the Free Zone joining us this day speaks volumes of the social commitment of our people. I would urge companies and also individuals to make this a daily habit, especially since Dubai has an excellent network of the most-modern public transport."
Environmental Exhibition
Jafza, on the sidelines of the Car Free Day, also organised an environment exhibition participated by a number of companies operating in the Free Zone showcasing their innovative products that add value to the community.
Polaris displayed several models of eco-friendly and durable power electric cars that do not consume any kind of fuel. ReTeck Recycling Company Technology presented their latest innovations in the field of recycling including processing and battery recycling system, inkjet cartridge recycling machine that is used for separating ink from the cartridges and separating recyclable materials from the others and a data-wiping equipment, including HDD data terminator, degaussing machine and crush box.
Jafza Green Initiatives
Jafza has always been at the fore in adopting green projects that includes a series of initiatives to save energy and water consumption, ensuring optimal use of resources and reducing consumption and greenhouse gas emissions. Jafza is using solar energy for steer lights in Jafza South and has installed energy-saving lights in offices. The Free Zone is also retrofitting 157 buildings in the Free Zone to enhance energy usage and conserve water, promoting recycling and effective waste disposal. The buildings are designed to ensure their sustainability, and electric vehicle charging points have also been installed.
Share
Looking to set up your business with Jafza?
Schedule a call with Ebtesam Al Kaabi, Head of Sales at Jafza.
Get started