Jafza, S Korea to develop closer ties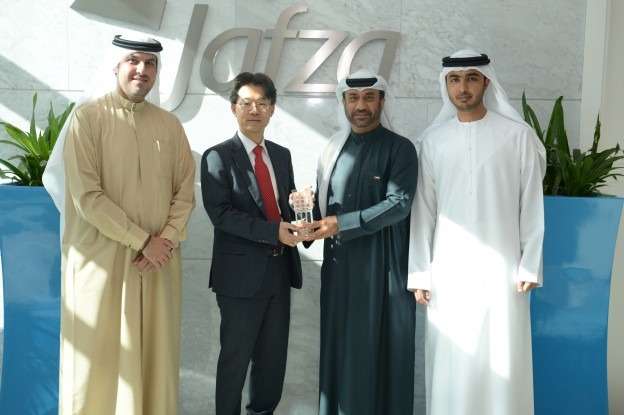 Ibrahim Mohamed Al Janahi, Deputy CEO and Chief Commercial Officer received His Excellency Heo Nam Duk, the Consul General of Korea to the UAE, at the Jafza Headquarters.
The meeting, aimed at reviewing the cooperation between Jafza and the Republic of Korea, also explored opportunities to develop bilateral relations and contribute towards increasing the volume of trade and facilitate the flow of goods and services smoothly.
Speaking of the occasion, HE Sultan Ahmed bin Sulayem, Chairman of DP World and Chairman of Ports, Customs and Free Zone Corporation said, "We have seen a 21 per cent growth in trade between Jafza and Korea reaching USD3.3 billion in 2014 as against USD2.7 billion in the previous year. Korea ranks ninth in terms of trade in Jafza."
He added, "We intend to double the volume of trade with Korea over the next five years and invite more multinational Korean companies from all sectors to provide services to the local and regional markets. Korean companies have always led large-scale projects and they will have a significant share of these projects that will be implemented in the coming years."
HE bin Sulayem asserted, "Jafza has become a milestone in the economic development of Dubai. Korean products have gained a reputation in consumer confidence due to efficiency and quality. Those companies looking to extend and strengthen their market presence in the Middle East and Africa should benefit from setting up at Jafza."
Korean companies have had a very cordial relation with Jafza and that is the reason over 57 Korean companies, including a number of prominent companies such as electronics giants Samsung, LG, Hyundai, Humax, Industrial systems, and Korea Express have their base in Jafza.
AlJanahi said, "The volume of trade has doubled in terms of weight by more than twice in the past decade, rising from 194,161 kg in 2004 to 504,677 kg in 2014. The list includes the most important goods like equipment, electronics, automotive, aircraft and transport equipment, foodstuffs, construction materials, plastic and rubber products, chemicals and related industries."
He added, "Owing to Korea's extensive experience in the field of small and medium-sized companies, we have started the Incubation centre run by the Ministry of Development of Small and Medium Enterprises and Korea trade-investment promotion agency. Eight Korean companies from various sectors are working through this incubator. We are looking forward to expanding it and working with the various economic institutions to attract other companies to explore opportunities within local and regional market very closely."
The Deputy CEO will also lead a delegation from the Free Zone on a roadshow in Seoul, during September to meet investors and promote business opportunities for companies from all sectors. A special focus is on attracting more Korean companies in technological and industrial sectors due to the government policies aims to diversify sources of income.
HE Nam Duk, also commended the achievements made by the Free Zone and its active contribution over the past years in the diversification of the Emirate of Dubai and the UAE economy, in general.
Share
Looking to set up your business with Jafza?
Schedule a call with Ebtesam Al Kaabi, Head of Sales at Jafza.
Get started