Jafza registers 8% growth in companies on annual basis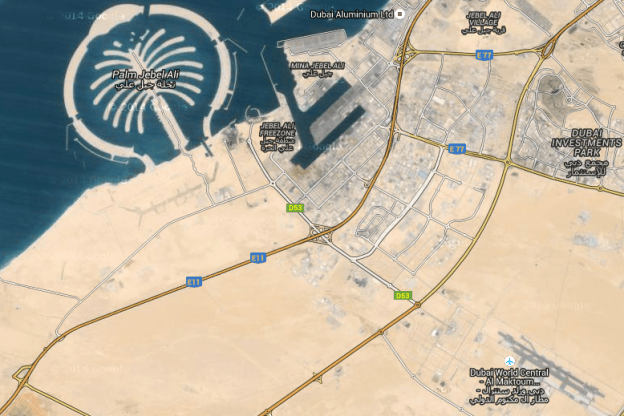 Jebel Ali Free Zone (Jafza), the flagship free zone entity of Dubai and the trade and logistics hub for the wider Middle East region, has achieved strong performance in terms of the quality of investments and the number of new companies registered in 2015.
HE Sultan Ahmed bin Sulayem, Chairman and CEO of DP World and Chairman of Ports, Customs and Free Zone Corporation:
"Jafza continues to attract foreign investment and capital due to our persistent efforts in providing our customers with an integrated work environment and infrastructure ensuring manufacturing, packaging, warehousing and logistical efficiency. In 2015, the total number of companies increased by 8 per cent on annual basis between 2011 and 2015."
HE Bin Sulayem emphasised that these figures reiterated Jafza's strategy and vision in playing a lead role in the post-oil future, and in implementing the vision of His Highness Sheikh Mohammed bin Rashid Al Maktoum, Vice President and Prime Minister of the United Arab Emirates and Ruler of Dubai to diversify the Emirate's economy and develop Jafza as an attractive foreign investment zone and a centre for regional trade.
He added that, the foreign investment in key economic sectors within Jafza was simultaneously driving other sectors, adding value to the local economy.
He attributed this growth to operational efficiency and the world-class infrastructure provided to customers in the Free Zone; thus attracting new companies to set up at Jafza and existing companies expanding their facilities. This has resulted in an inclined graph with regards to the high occupancy rate at facilities of various kinds as well as the launch of several products and innovative initiatives for customers.
He asserted that Jafza's focus on logistics and industrial activities import and re-export of goods and consumer goods played a key role in supporting and promoting economic development in Dubai.
New companies
HE Bin Sulayem revealed that in 2015, Jafza registered new companies of which, Middle East region investors stood at 44 per cent, followed by Asia-Pacific with 23 per cent, Europe by 21 per cent, the Americas and Africa, with 6 per cent each. Of the countries setting up businesses at Jafza, UAE stood at 35 per cent, followed by India and UK at 9 per cent and 6 per cent, respectively.
In 2015, Jafza welcomed some of the world renowned corporations including Goodrich Middle East, Royal International Gulf Trading, Xylem Manufacturing, Tubo FZE, Harit General Trading, BM Johansson & Sons, Top Link International, Flow Link Shipping & Logistics and MWH General Trading.
For facilities, 312,000 square metres of plot of land were leased to new companies, followed by 265,000 square metres of warehouse/light industrial units and 28,000 square metres of office space.
Fastest growing sectors
In terms of new companies, Jafza witnessed a 12 per cent growth in sectors such as Equipment & Machinery, Electronics, Steel & Building Materials, followed by Chemical Products & Petroleum sector at 10 per cent while Food, Cars & Transport stood at 9 per cent each, Healthcare & Medical Products at 5 per cent and Services & Logistics at 4 per cent.
Commercial and administrative transactions
The number of commercial and administrative transactions increased by 5 per cent on annual basis between 2011 to 2015 to reach 938,000 transactions last year. Administrative transactions including General Directorate of Residency and Foreigners Affairs-Dubai, card services and medical services touched 871,000. Commercial services that ranged close to 67,000 transactions varied between licensing and leasing, registration and renewal of licenses and leases.
Ibrahim Mohamed Aljanahi, Deputy CEO and Chief Commercial Officer, said, "Jafza has been able to accomplish high figures of transactions due to our continued efforts on developing and modernising electronic and smart services thus reducing the transaction time considerably. Jafza has been working in line with HH Sheikh Mohammed's vision to shift from e-governance to M-governance."
He added, "Jafza also launched 'Dalili: The customer services process guide' for companies in Jafza that provides a detailed structure of processes for commercial and administrative services. We have also introduced the MSP, Multi Service Professional Programme, wherein all employees involved with administrative and commercial services are trained in all the sections related to customers; from back office to customer service including a thorough knowhow of the entire admin and commercial processes. Through this programme, our staff are ready to offer assistance to customers without any delay with complete knowledge of the process.".
Employment within the Zone
The workforce in the Free Zone, both sponsored and non-sponsored was 144,000 at the end of 2015, an 8.5 per cent rise over the past five years.
The increased employment is attributed to the new companies established in Jafza in addition to other expansions and the new production lines undertaken by commercial, industrial and other companies to serve the fast-growing markets in the Middle East and Africa region.
Developments
In 2015, Jafza inaugurated the first phase of Jafza One wherein the first tower with an area of 43,000 square metres is available to customers. While over 70 companies have booked office space in the first tower, the occupancy rate is more than 40 per cent as some of the companies are undergoing fit out arrangements.
Jafza One, the unique commercial complex in new Dubai, is located at the heart of Jafza, the world's leading Free Zone. Jafza's flagship commercial property, it is a premium 'one-stop-shop' business facility. Designed to satisfy a comprehensive range of corporate requirements, the complex has been developed to maximise commercial growth and enable companies to operate and thrive in a hassle-free, seamless environment.
Jafza One is located in the heart of Jafza on the logistics corridor between Jebel Ali port, Al Maktoum International Airport and Sheikh Zayed road in close proximity to all of Dubai's major business and residential districts, as well as the World Expo 2020 Dubai exhibition venue.
Jafza One comprises 24-storeyed twin towers offering commercial area of 100,000 square metres. Along with a 600-seat innovatively designed auditorium for public events, Jafza One also has a convention centre and exhibition hall with a total floor area of 1,500 sq.m. for supplementary exhibition areas. In addition, there are 22 conferences and meeting rooms and four floors of parking space with a capacity of 4,000 vehicles.
The second phase of Jafza One is expected to be completed in the fourth quarter of this year, making it one of the highlights in the free zone that will meet customer needs.
Jafza is currently also working to develop an array of expansion projects, including:
– On-Site Residences for employees: With a capacity estimated at 582 rooms of varying sizes, including complex services and modern facilities, the complex will ensure comfort and luxury in a healthy and safe environment. The expected completion of this project in the second quarter of this year.
– Warehouses and Light Industrial Units (LIUs): Over the past few years, Jafza has seen high occupancy rate for its warehouses and LIUs, reaching 100 per cent in some months. Due to this demand for space, Jafza is building a new complex for LIUs —110 units are divided into two types according to space; 51 unit with an area of 702 square metres, and 59 units of 349 square metres.
– Dubai Logistics Corridor: Completion of the last phase of the corridor through the establishment of a bridge on Sheikh Zayed Road between Al Maktoum International Airport and Jafza to ease traffic on the bridge and facilitate transportation of goods to and from the free zone.
International
In 2015, Jafza conducted roadshows in counties such India, France, the United Kingdom, the United States, Japan, Saudi Arabia, Russia, Germany, and Portugal to attract companies to the in the Free Zone. Based on Market Research, Jafza met some of the renowned companies in their countries of origin to explore their future plans, especially those looking at expanding into regional markets.
Alongside, Jafza also participated in Dubai Week in China held in May last year organized by Falcon associates.
The Free Zone also received over 70 trade delegation and foreign diplomats from 21 countries to identify the services and features offered by Jafza.
Dubai Industrial Plan
The Economic Development Committee of the Executive Council of Dubai commissioned Jebel Ali Free Zone and Dubai Industrial City to develop the Dubai Industry Strategy 2021 to enhance the competitiveness and sustainability of the economy of Dubai and attract foreign direct investment activities while encouraging local investment and supporting small and medium enterprises. By adopting advanced technology, the plan aims to promote and diversify the industrial sector to increase the volume of exports.
Industry
Jafza has been one of the key factors in developing and strengthening the industrial sector of Dubai as the Free Zone continues to attract new players in this sector. Jafza, home to 765 industrial companies with a growth of 18 per cent, reflected positively on employment in this sector. The chemicals and petroleum products sector rose to the largest number of industrial enterprises by 25 per cent, followed by Steel and Building Materials at 20 per cent and Machinery & Equipment at 17 per cent.
Agreements
Jafza and Dubai Department of Tourism and Commerce Marketing (Dubai Tourism), signed a Memorandum of Understanding (MoU) to further strengthen cooperation between the two entities to promote Dubai as one of the world's leading trade and travel centres, as well as the most favoured investment destination.
Capitalising on the global profile of Jafza and Dubai Tourism, the MoU enables both entities to work jointly to promote Dubai as an international hub for trade and tourism through new events, products and concepts including Dubai EXPO 2020 as well as EZW's Jafza One – the Convention Centre complex and other products.
Jafza also entered into a collaborative initiative with the Rental Dispute Centre (RDC), the judicial arm of Dubai Land Department, to allow the Free Zone to register its rental dispute cases with the centre electronically.
Jafza is the first organization to lodge its rental disputes with the Rental Dispute Centre online; thus saving a significant number of manpower and dramatically improving operational efficiency at both the organisations.
Jafza and Shanghai Yaming Lighting Co Ltd, a leading Chinese lighting company too signed a MoU to identify areas of collaboration across the entire supply chain of lighting industry including manufacturing, sales, R&D and distribution. This was an important step forward in providing energy-saving techniques of high quality in the region in general and the UAE, in particular.
Green Free Zone
The 7-year project aims to reduce electricity and water consumption in buildings by 28 per cent and 36 per cent, respectively with a significant decrease in carbon dioxide emissions by 75,000 tonnes.
In line with the strategic goal to make the Free Zone the most energy efficient business hub, Jafza signed a MoU with DEWA's Etihad ESCO to retrofit its existing buildings and facilities to make them more energy efficient and thus save the free zone authority energy worth AED132 million.
Jafza has always been in the forefront of implementing the Government's green initiatives to promote and preserve sustainable ecosystem. The initiation of the present retrofit project further reinforces its commitment. The move is an important step forward in the direction of achieving the Government's Dubai 2021 plan and following the directives of His Highness Sheikh Mohammed Bin Rashid Al Maktoum, Vice-President and Prime Minister of UAE and Ruler of Dubai, to use technology and innovation to convert Dubai into a sustainable green city. The project will significantly reduce Jafza's carbon footprint and will make its operations more sustainable and efficient.
The first phase of the project comprised energy retrofit of 157 staff accommodation buildings in Jafza replacing 5,000 old air conditioners with highly efficient split units; 85,000 old light fixtures with high efficiency LEDs and 31,000 old water fixtures with new efficient water units.
Occupancy
The total occupancy rate in the free zone stands at 85 per cent of the total facilities where 95 per cent of the offices were leased to customers. However, the completion of Jafza One second phase at the end of this year will provide additional units for the companies. While warehouses reached 96 per cent, residential complexes were 97 per cent and 79 per cent occupied, respectively. `
International awards
Jafza won 'Dubai Quality Award 2015 — Free Zone' to become the first free zone to win this prestigious award three times and 'Dubai Appreciation Award for Human Resources' by the Department of Economic Development in Dubai.
Jafza received prestigious local and international awards, including UK-based fDi magazine as 'Free Zone of the Year' under five categories. The free zone won 'Start-Up Support Award', 'Reinvestment Award' and 'Infrastructure Development Award' in bespoke categories. In regional categories, Jafza won 'Highly Commended – Overall Free Zone of the Year – Middle East' and 'Highly Commended – Free Zone of the Year – Large Tenant – Middle East'.
Jafza was also awarded the Frost & Sullivan Award — Logistics Infrastructure Services and the 9th Annual Supply Chain and Transport Awards for Logistics Hub of the Year.
Share
Looking to set up your business with Jafza?
Schedule a call with Ebtesam Al Kaabi, Head of Sales at Jafza.
Get started