Jafza meets leading industrialists in India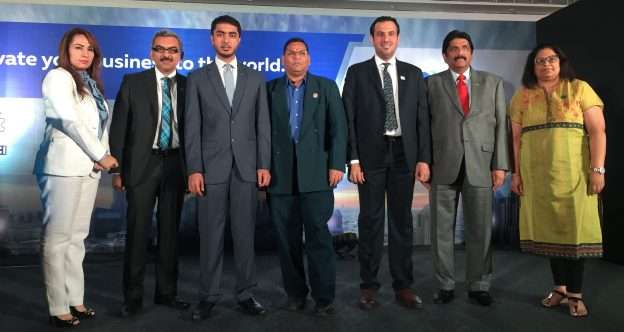 Jebel Ali Free Zone (Jafza), the flagship free zone entity of Dubai and the trade and logistics hub for the wider Middle East region, has registered an additional 60 Indian companies in 2015 from key sectors including: Electronics (20%), Steel, Construction and Building Materials (19%), Chemicals and Petroleum Products (17%) and FMCG (6%).
With over 800 Indian companies from various sectors based in Jafza, the Free Zone has recorded a growth of 10% last year in the number of companies registered. This is due to the strong bilateral ties between India and the UAE and the reputation that Jafza has built among India's business community.
Jafza has been organising regular roadshows in India and the latest in the series was a three-city tour held recently in major Indian business centres — Hyderabad, Ahmedabad and New Delhi. Over 300 senior investors and Indian businessmen from various sectors attended business seminars to learn about the attractive investment environment in Dubai and Jafza. The business seminar in New Delhi was attended by Ahmad Bin Harib Al Falahi, UAE Commercial and Trade attaché to India, at the Embassy of the UAE in India.
Opportunities for healthcare companies was Jafza's focus in Hyderabad — one of the leading destinations for medical tourism in India. Adil Al Zarooni, Senior Vice President-Sales presented an outline of the pharmaceutical industry in Jafza and highlighted efforts by the government to promote Dubai as a regional destination for medical tourism. He introduced the attendees to Dubai's emerging health sector and the state-of-the-art hospitals and medical centres in the Emirate that would require equipment and services, presenting broad prospects for Indian companies experienced in the field.
Commenting on the success of the roadshow in India, Ibrahim Mohamed Aljanahi, Deputy CEO and Chief Commercial Officer, said, "Historically, India has been a strategic partner of the UAE and Dubai. Jafza began operations 31 years ago and since then, Indian investors have trusted us and have played a key role in the growth of Jafza by establishing their businesses and production lines here. Over the years, we have continued to build a stronger business relationship with India through mutual annual visits. The exchange of trade between the two sides has grown continuously, with new companies registering here every year. Through Jafza, they too have expanded their businesses and reached out to newer markets in the region."
Aljanahi added that, Jafza aimed to build long-term economic partnerships with the Indian business community by providing the appropriate trade environment and by attracting investments to the country, in line with the goal of the UAE and Dubai to diversify sources of income and to prepare for the post-oil era. He also pointed out the significance of the visit of His Highness Sheikh Mohamed bin Zayed Al Nahyan, Crown Prince of Abu Dhabi and Deputy Supreme Commander of the UAE Armed Forces, to India in February that has further strengthened business relations with India, and raised the level of cooperation between the two friendly nations.
Aljanahi asserted that Jafza is the ideal gateway for Indian companies planning to access regional and international markets due to the strategic geographical location, world-class infrastructure, facilities and efficient logistics.
He said, "Jafza ensures services to its customers in the fastest and through the most efficient approach; be it fast moving logistics corridor comprising Jebel Ali Port and the Al Maktoum International Airport or establishing a company here. We continue to attract foreign investment and continue to raise the bar for Dubai's competitive business environment, regionally and globally."
Jafza's leading exports to India have traditionally been machines and heavy equipment, metals, and chemicals, while India's exports to the UAE include mineral products, electronics and equipment, textiles and cotton.
Share
Looking to set up your business with Jafza?
Schedule a call with Ebtesam Al Kaabi, Head of Sales at Jafza.
Get started