Jafza looks to strengthen competitive logistics sector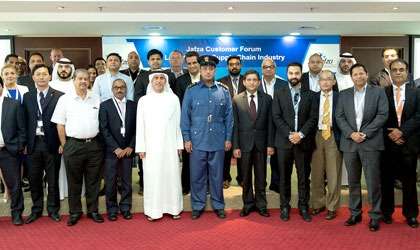 Jebel Ali Free Zone (Jafza), Dubai and the UAE's flagship trade and logistics hub for the wider Middle East region and Africa held a forum, recently, for the Logistics and Supply Chain sector companies based in the free zone. The Forum was attended by industry leaders, key officials from partner entities and senior management from Jafza.
Speaking on the occasion, Talal Al Hashimi, Chief Operating Officer at Jafza, stressed upon the advantages of UAE's strategic location bridging the East and West supported by superior infrastructure and well-connected, efficient logistics through multi-modal connectivity. He added that, the logistics industry is reaping the benefits of a strong growth in the volume of trade between Asia, Africa and Europe.
Al Hashimi said, "Jafza is home to several multi-national logistics companies who need a speedy, efficient and secure international trade supply chain. Locally and regionally overall consumption and trade are on the rise and it is important to add real value, offer flexibility, facilitate faster clearance and above all maximise margins. This will only be possible with enhanced cooperation between us and the industry and a genuine exchange of ideas on how we can continue to grow together."
Jafza comprises 314 logistics companies from 28 countries with Middle Eastern and African companies leading the sector followed by Asia, Europe and the Americas.
Yusuf Tambawala, Senior Manager-Product Development at Jafza gave a detailed presentation on Dubai's Industrial Strategy that aims to develop and implement long-term industrial policies to enhance the competitiveness and sustainability of the industrial sector in Dubai and across its free zones. It identifies target industrial sectors and focuses on strengthening industrial integration – connecting the target sector with educational and research institutions to stimulate innovation and creativity with a view to developing strategic industries. In addition, the Dubai Industrial Strategy aims to shape an attractive environment for these strategic industries."
The Dubai Industrial Strategy is based on five key objectives that will serve as the foundation for Dubai's industrial future. The Strategy aims to increase the total output and value-addition of the manufacturing sector, enhance the depth of knowledge and innovation, make Dubai a preferred manufacturing platform for global businesses, promote environmentally-friendly and energy-efficient manufacturing and make Dubai a center for the global Islamic products market.
The forum is an integral part of Jafza's initiative of communicating with its customers and providing them with an ideal platform to discuss global trends and opportunities in different sectors.
The forum was attended by the some of the leading companies from the logistics industry TNT, Mohebi Logistics, RSA Talke, Balmain, Nippon Express and ATS along with senior management of Jafza and representatives of DP World, Dubai Customs, Dubai Chamber, Trakhees, Dubai Exports, and the Port and Free Zone Security and a number of Jafza strategic partners who answered all the customer queries.
Share
Looking to set up your business with Jafza?
Schedule a call with Ebtesam Al Kaabi, Head of Sales at Jafza.
Get started