Jafza, Investe São Paulo sign MoU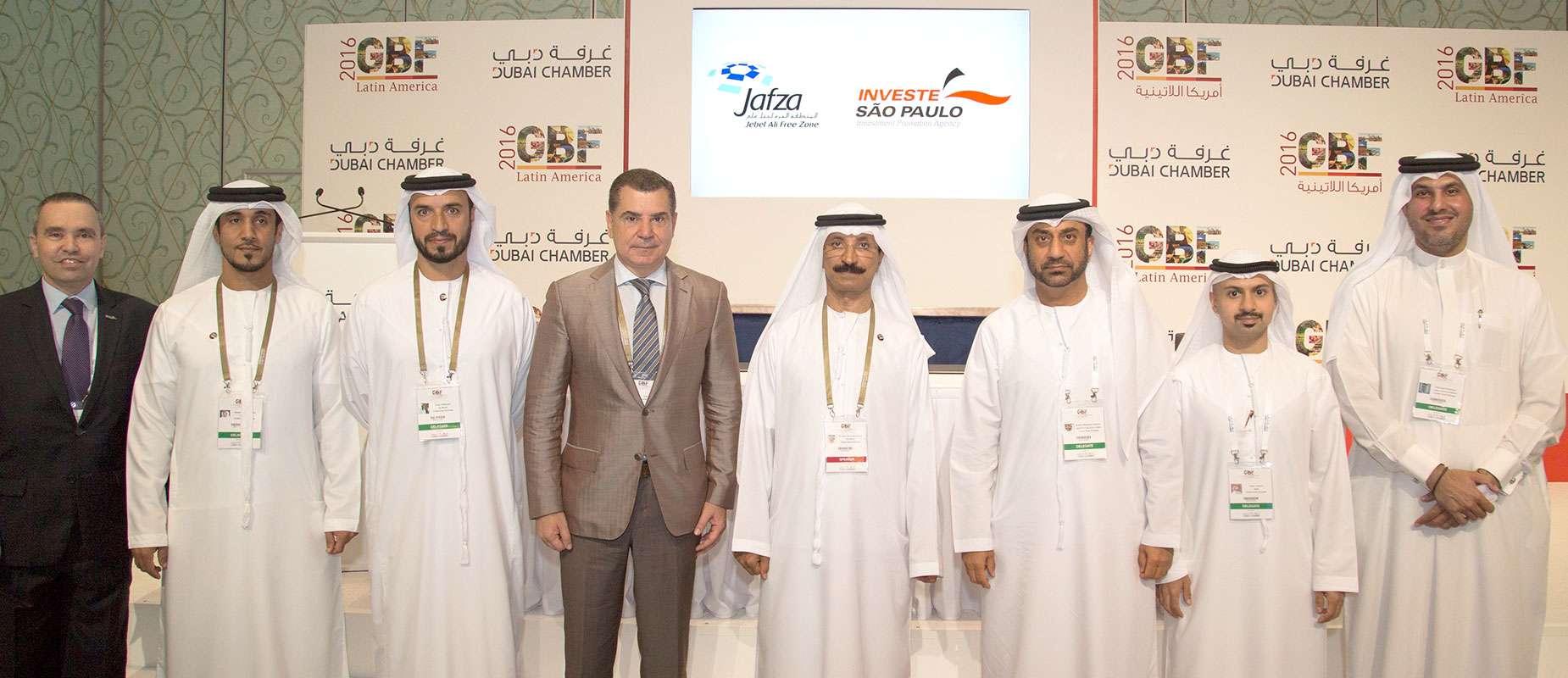 Jebel Ali Free Zone (Jafza), part of DP World, and the UAE's flagship trade and logistics hub for the Middle East region and Africa, has signed a Memorandum of Understanding (MoU) with Investe São Paulo, Brazil to strengthen trade cooperation and investment.
The MoU was signed between Sultan Ahmed bin Sulayem, Group Chairman and Chief Executive Officer of DP World, and Chairman of Ports, Customs and Free Zone Corporation and Juan Quirós, President of Investe São Paulo on the sidelines of the Global Business Forum on Latin America, organised by the Dubai Chamber of Commerce and Industry.
In line with DP World's efforts to build lasting partnerships to facilitate the movement of goods across an integrated and global supply chain, the MoU aims to create opportunities for Brazilian companies in the UAE and provide easy access to Brazilian products in the newer markets of Middle Eastern, South Asian, African and CIS. Under the agreement, the two sides will organise joint activities and events to encourage mutual investment and facilitate the exchange of goods and exports.
Mr. Bin Sulayem said that the MoU is a medium for the free zone to deepen trade ties with Brazil and attract companies from the Latin American nation.
He said, "Jafza has been a pioneer in the development of free zones, regionally and globally and is integral to helping DP World realise its vision of leading the future of world trade. Over the past three decades, we have represented the vision of our leader to transform Dubai into a global business centre. At the same time, we have supported our customers in their business expansion plans, ensuring swift and efficient logistics to newer markets in the Middle East, Africa, South Asia and CIS."
Mr. Bin Sulayem, added: "We have continually attracted companies to Dubai by building strong partnerships with governments around the world. Over the past few years, trade between Jafza and Brazil has steadily grown to reach $764 million in 2015. Through the MoU, we are joining hands with Investe São Paolo to identify traders and investors from Brazil that are keen to explore the region and educate them on the opportunities and advantages of setting up their companies in Jafza."
Mr. Bin Sulayem stressed that Jafza is keen to support small and medium-sized companies from Brazil by providing them facilities and services and a platform for re-export to various consumer markets in the region; thus enhancing their presence in the region.
He added: "Brazil is considered as one of the leading exporters and producers of foodstuffs and the region offers a growing number of opportunities in the Food & Beverge sector across the Middle East and GCC."
According to Mr. Quirós, "This MoU is a strategic and major advancement in the economic relations between Dubai, The UAE and São Paulo State. São Paulo is the 4th largest economy in Latin America, and has 44 million inhabitants. With this cooperation, Brazilian companies based in São Paulo will benefit from special trade conditions and support from Jafza and Investe São Paulo in their efforts to reach this important regional market. Now products made in São Paulo will use Dubai as a hub to reach countries and customers in the GCC, Northern Africa, Asia and more."
Investe São Paulo works towards the promotion of investment and exports for the state of São Paulo. The organisation aims to improve the business environment in the state by adopting the best global innovations, and by providing the necessary support to Brazilian companies wishing to expand their activities internationally, particularly the Middle East.
Share
Looking to set up your business with Jafza?
Schedule a call with Ebtesam Al Kaabi, Head of Sales at Jafza.
Get started