Jafza in full flow as Dubai's Top F&B trade enabler Gulfood 2020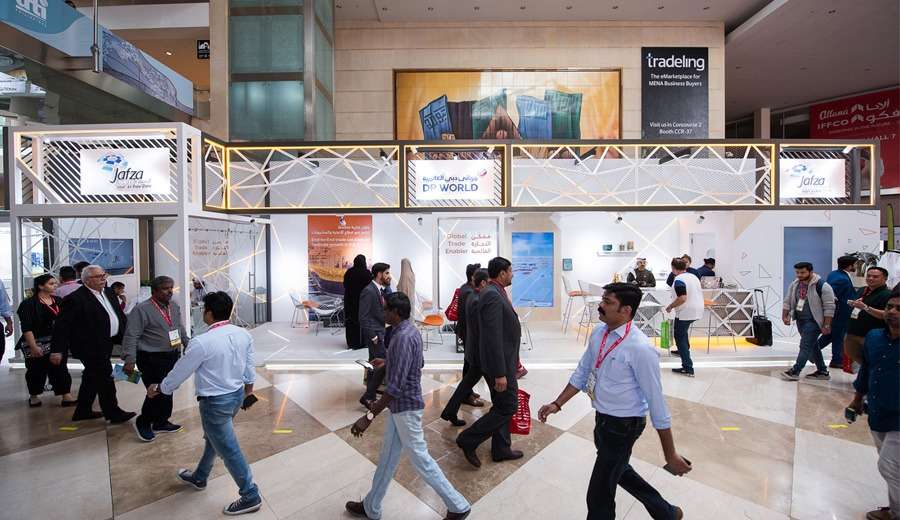 Jebel Ali Free Zone (Jafza), DP World, UAE Region's key trade facilitator is showcasing its incentives for companies as well as its sustained role as the leading contributor to Dubai's F&B trade, at Gulfood 2020, which opened on 16 February, marking its 25th anniversary.
The five-day event includes the Gulfood Innovation Summit under the theme of "Rethinking Food" to discuss topics such as Government's role in shaping the future of food, F&B Marketing, tourism and retail and future food technologies. Jafza currently contributes 16.4 per cent of Dubai's total traded volume and over 17 percent of Dubai's traded value.
Jafza and Jebel Ali Port together aim at supporting the F&B Businesses in a fast-paced industry that has been revealing hidden opportunities in this space. The Free Zone and Port currently support over 4,500 port customers. The activities of 480 F&B companies from 66 countries at Jafza highlights how instrumental DP World, UAE Region has been with its support to this key industry.
Mohammed Al Muallem, CEO and Managing Director, DP World, UAE Region, and CEO of Jafza, said: "Jafza proudly wears the crown of the most favoured destination among F&B investors and traders, both local and international. All the activities in the Free Zone and the Port are being conducted in line with the UAE Vision 2021 launched by His Highness Sheikh Mohammed bin Rashid Al Maktoum, Vice-President and Prime Minister of the UAE and Ruler of Dubai. The industry has already established its importance with its consistently upward growth path and DP World, UAE Region looks forward to supporting the businesses in the F&B Sector. With Expo 2020 just around the corner, rethinking the F&B industry from a fresh perspective, as Gulfood 2020 promises to do, will add value to our collective efforts."
DP World, UAE Region's integrated business and logistics hub in Jebel Ali is integral to the ecosystem that's today home to some of the world's biggest F&B brands such as Unilever, Nestle, Alokozay, Al Khaleej Sugar, Mars and Hunter Foods, among other industry-leading players.
Commenting on his company's long experience at Jafza, Yasir Jamal, Supply Chain Vice President MENA Unilever, said: "At Jebel Ali Free Zone, we benefit from a fast and systematic clearance process which is supporting our working capital and speed to fulfil market demand. We are also extremely happy with the extended logistics solution DP world is offering as well as the wide ports coverage within DP World network which is supporting our export operation across the world."
Ananya Narayan, Managing Director, Hunter Foods Limited FZCO, said: "Hunter Foods exports to over 30 countries and many of the milestones that have been achieved are thanks to the connectivity of Dubai to the world and the efficiency and infrastructure that DP World, UAE Region offers. We are proud to have been the first food factory in Jafza, which started operations 35 years ago".
The world-class business ecosystem hosts partners capable of food, grain meat, and oil processing, customised grain silos and end-to-end solutions for exports, re-exports and imports.
Jafza's dedicated F&B cluster, spread over 1.17 million sq meters, offers value-added logistics services including storage, processing, packaging, bagging and other facilities within both bonded and non-bonded zones. A one-stop-shop, "Zadi" on DP World's online trade facilitation entity Dubai Trade, enables traders to access all food import related services.
The port infrastructure includes container terminals, general cargo yards, temperature-controlled storage, reefer yards and other ancillary services. The Dubai Logistics Corridor facilitates faster trade flows that benefit the world's fastest-growing economies with its multimodal sea-land-air transshipment facility, with on-site Customs clearance.
An innovative Jafza initiative is a dedicated incubation centres with premium benefits for trading in Halal foods, as well as for Indian and Latin American Traders.
Share
Looking to set up your business with Jafza?
Schedule a call with Ebtesam Al Kaabi, Head of Sales at Jafza.
Get started