Jafza celebrates 30th Anniversary at Annual Gathering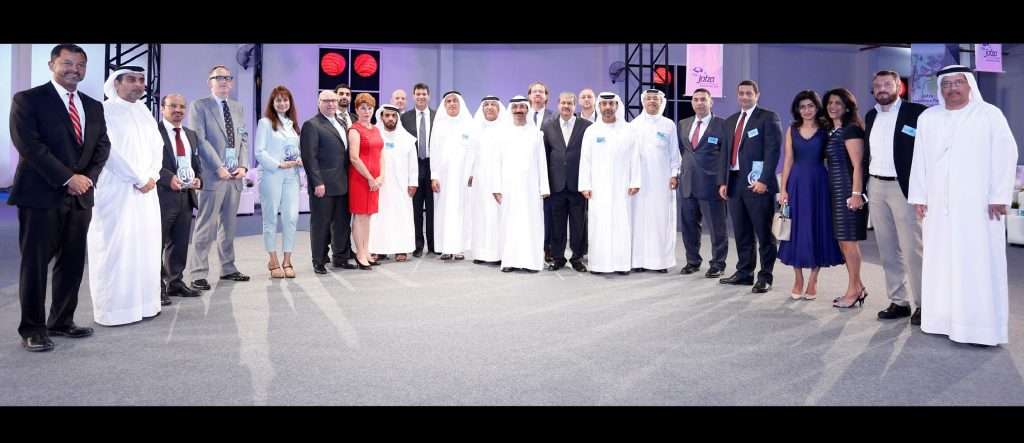 Jebel Ali Free Zone (Jafza), Dubai and the UAE's flagship trade and logistics hub for the wider Middle East region comprising West Asia, the CIS, Africa and the Indian Subcontinent, celebrated its 30th anniversary at its Annual Gathering with customers and partners at Port Rashid.
The celebrations attended by Dubai government officials including Abdulrahman Al Saleh Director General- Dubai Finance Department, Jamal Majid Bin Thaniah Vice- Chairman DP World, Ahmad Mahboob Director of Dubai Customs.
Mr Bin Sulayem related the challenges that the founders of Jafza faced in setting up the free zone and the support they received from customers in turning it into a major success story and one of the leading business hubs in the region.
He said that the strategic vision of Jafza was to attract foreign investment to Dubai in line with the directives of His Highness Sheikh Mohammed bin Rashid Al Maktoum, Vice-President and Prime Minister of the UAE and Ruler of Dubai, to diversify Dubai's economy from oil and add value to the national economy.
He also emphasised the significance of the construction boom witnessed by Dubai in the 1990s in the evolution of the free zone.
He noted the key role of Jebel Ali Port at the heart of the free zone contributing to the growth of Dubai's economy encouraging the development of other specialised free zones across business sectors over the last three decades.
Jafza has promoted trade between Dubai and global markets generating economic growth for the Emirate and providing employment. It contributes more than 21 per cent of Dubai's GDP and enables a quarter of non-oil trade (by volume). In 2015, Jafza's total trade amounted to more than AED 321 billion attracting 32 per cent of total foreign investment into the UAE.
Looking forward, Mr Bin Sulayem unveiled a string of new projects that will continue to position Jafza as one of the world's leading free zones, attracting leading businesses from around the world.
Multi-storey warehouses
Sultan Ahmed Bin Sulayem, Group Chairman and CEO of DP World and Chairman of Ports, Customs and Free Zone Corporation, said: "The concept of a multi-storey warehouse meets the increasing demand for Jafza's facilities as the free zone has reached high occupancy levels. Jafza has always been known as an innovator and these are unique projects in the region.
"Over the years, we have built warehouses and storage facilities with international specifications to meet the requirements of our customers. Our team of engineers has studied similar initiatives around the world and we have designed them to suit the requirements of the UAE.
"This includes taking into account high temperatures, the quality of trucks used in transport, the integration of advanced technology to reduce transportation costs and storage solutions."
Mr Bin Sulayem said DP World's international experience around the world as a trade and logistics enabler played a vital role with the transfer of knowledge and technology through its network of container terminals and logistics parks in over 40 countries.
The project is located in Jafza South, strategically close to the Expo 2020 site occupying an area of 207,000 square metres. The warehouse includes four floors to be built in stages, with a total capacity of 500 units. The warehouse will range from 300-500 square metres, with average office space of 80 square metres.
Multi-Storey Car Storage
Mr Bin Sulayem also unveiled a multi-storey car storage facility to serve the Dubai Auto Zone to optimise the use of land and to cope with high occupancy rates.
The five-storey facility will be located in the National Industries Park (formerly known as Techno Park) close to Jebel Ali Port, enabling the import and re-export of vehicles for customers. It will cover an area of 82,000 sq.m. and can accommodate up to 12,000 cars at a time.
It will be equipped with all the essential services required by the automotive industry under one roof, including a 4,000 sq.m. office space for processing transactions and 1,300 sq.m. workshop area for repairing, modifying and adapting vehicles according to customer specifications.
Light Industrial Units/Warehouses
Meanwhile, Jafza also plans to construct a new complex for light industrial units and warehouses suitable for storage as well as administrative office space. It will initially comprise 455 thermally insulated units with the warehouse measuring 270 sq.m. and individual office space estimated at 75 sq.m. The units will cater for the integrated needs of the supply chain and logistics sector, enabling customers to distribute to regional markets.
Onsite Residences
Jafza has been providing on site accommodation for employees of its customers within the free zone for a number of years with more than 10,000 rooms with occupancy rates reaching almost 99 per cent. A new complex consisting of 30 buildings, each with 10 floors will now be built to tackle the issue. It will be able to house almost 30,000 employees with restaurants, retail stores and recreational areas planned alongside.
Customised Development Solutions
One of Jafza's innovative plans is a customised development approach to meet industry-specific requirements with a range of services from network planning, site selection and project design to development of infrastructure and buildings.
Ibrahim Mohamed Aljanahi, Jafza Deputy Chief Executive Officer and Chief Commercial Officer thanked customers and partners for their support that has been the mainstay of Jafza's success over the past 30 years. He highlighted the contribution of employees and the organisations who have helped contribute to the government's plan of diversifying the economy away from oil.
Mr Aljanahi, said: "Three decades ago, Jafza committed to enabling regional commerce by providing an integrated work environment that would stimulate the local economy and I'm proud to say that we have achieved our goals with customer support. We believe that Dubai's growth reflects the growth and development of our clients' businesses."
Environment-friendly free zone
In its efforts to promote a sustainable environment Jafza is also retrofitting buildings and facilities to reduce energy consumption by 30 per cent.
In the first phase of the project, 157 buildings will be refurbished to improve energy and water consumption by replacing 5,000 old air conditioners with modern split AC's that feature international technological standards.
Over 85,000 traditional lamps will be replaced with LEDs and 31,000 old water fixtures will be replaced with efficient water units. The changes will save around 158 GW/hour of electricity and 1.2 billion gallons of water over the next six years, amounting to a monetary saving of AED132 million.
Honouring Customers
At the end of the ceremony, Mr Bin Sulayem honoured companies that have been part of Jafza over the past 30 years. Global brands include Cleveland Bridge & Engineering M.E (Pvt) Limited; Dubai Aluminium Company Limited; Emirates General Petroleum Corporation; Dubai Petroleum; Al Wasl Marine; Oilfields Supply Centre Limited; Emirates Petroleum Products Company (EPPCO L.L.C); Emirates Chemicals (L.L.C); Plastic Powder Coating Company (L.L.C); Dow Europe GmbH; Shell Markets (Middle East) Limited; Gulf Imports & Exports Company; GAC Logistics Park; McDermott Dubai; Transitrex Research & Development Corporation; Black & Decker (Overseas) – Jebel Ali Branch; National Trading & Development Establishment and Universal Concrete Products Limited (UnimixL.L.C).
Share
Looking to set up your business with Jafza?
Schedule a call with Ebtesam Al Kaabi, Head of Sales at Jafza.
Get started