Economic Zones World awarded ISO certification in business continuity system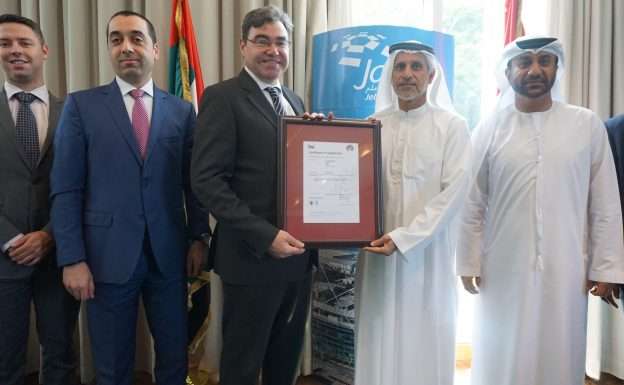 Economic Zones World (EZW) has been awarded the ISO 22301:2012 certificate for Business Continuity Management Systems (BCMS).
This certification demonstrates EZW's preparedness in planning, implementing, monitoring, reviewing, maintaining and continually improving EZW's document management system. This also includes periodic improvements to the systems in protecting, responding and recovering from emergency incidents when they occur.
Speaking on the occasion, HE Sultan Ahmed Bin Sulayem, CEO and Chairman of DP World and Chairman of Ports, Customs and Free Zone Corporation said: "The ISO certification underscores EZW's commitment to adopt international best practices in the field of business continuity and the readiness of our employees to provide efficient and timely services to our customers; this, in addition to our ability to cope with disruptions in any eventuality and safeguarding operational efficiency. This recognition is the latest in our list of certificates of excellences that have been conferred upon EZW over the years."
British Standards Institution's (BSI) ISO Certification for BCMS certifies that a high level of business continuity management is in place and practiced at an organisation to effectively respond to interruptions of critical business activities. Adhering to ISO standards enables the continuity of critical business processes in the event of an emergency such as major failures of information systems or unavailability of the primary facility of business.
HE Bin Sulayem added that this certification reinforced EZW's reputation as the global provider of sustainable industrial and logistics infrastructure solutions that meet the needs of companies and takes proactive measures to ensure sustainability of the core activities for our customers. EZW's achievement underpins Dubai's position as a global hub for sustainable economy.
He expressed his confidence on the efficient application of business continuity standards within the organization in order to establish proactive measures which safeguard interests of stakeholders, customers, employees and business partners.
He said, "Our astute and defined plans for our business continuity activities help us respond to various internal and external threats, providing uninterrupted services to customers; thus augmenting organizational flexibility ensuring the rapid return of operations to normalcy."
HE Bin Sulayem asserted that this recognition enhances the competitive edge of EZW and companies that fall under it. Its keenness to implement the best existing international practices on the principle of 'planning, implementation, verification', where a comprehensive plan ensures continuity of services in the event of any disruption as well as the appointment of an official in every management level and provide the required support to team members through redistribution of responsibilities within the team.
The Chairman emphasised that this success was the vision of His Highness Sheikh Mohammed bin Rashid Al Maktoum, Vice President and Prime Minister of the UAE and Ruler of Dubai to provide superior customer service and operational efficiency to all companies and thus, supporting the process of economic development of Dubai and the UAE.
Ibrahim Mohamed Aljanahi, Deputy CEO and Chief Commercial Officer of Jafza and Talal Al Hashimi, Chief Operations Officer received the certificate from Consul General of UK to Dubai Paul Fox and in the presence of Ahmad Al Khatib, General Manager of BSI, and senior management from both sides during a ceremony held at the Jafza headquarters.
EZW is the global provider of sustainable industrial and logistics infrastructure solutions under the DP World Group and its current portfolio includes Jafza, National Industries Park and Dubai Auto Zone (DAZ).
The company aims to create a robust network of infrastructure and business continuity platforms through prompt implementation of BCMS at its free zones to support the dynamic expansion of its rapidly growing multinational customer base.
Share
Looking to set up your business with Jafza?
Schedule a call with Ebtesam Al Kaabi, Head of Sales at Jafza.
Get started