Al Bayader International doubles 'Made in UAE to the World' industrial capacity with AED200 Million investment in Jafza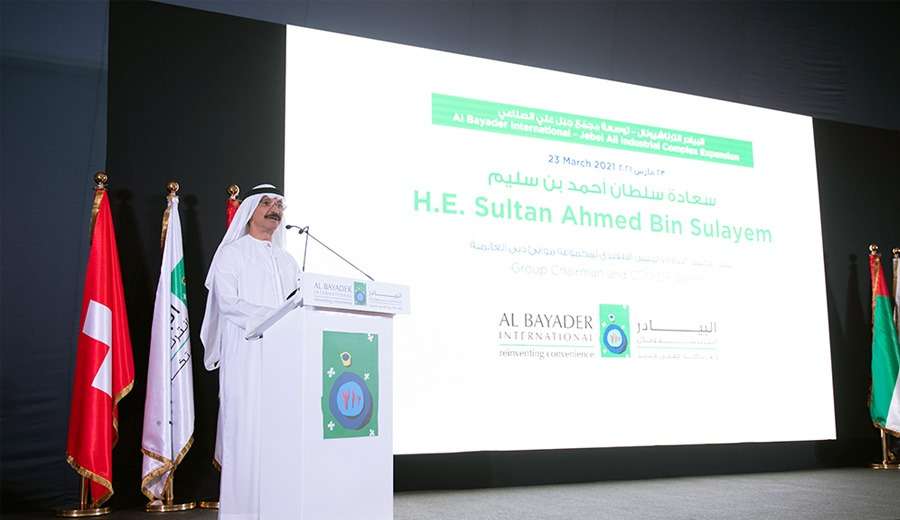 Al Bayader International, the UAE's leading and trusted manufacturer & supplier of packaging and cleaning solutions for diverse uses, today unveiled its newly expanded manufacturing facility in Jebel Ali Free Zone (Jafza), enabling a self-sustained industrial ecosystem that will see its 1,700+ product range exported to the rest of the world.
The expanded plant doubles its production capacity to 18,000 tonnes per annum of food packaging solutions, taking the overall production capacity across its six manufacturing facilities in the UAE and Qatar to 31,000 tonnes per annum. This is part of a significant AED200 million investment by Al Bayader International for a major industrial and retail expansion.
Her Excellency Mariam Bint Mohammed Saeed Hareb AlMheiri, UAE Minister of State for Food & Water Security, His Excellency Sultan Ahmed bin Sulayem, Group Chairman and CEO of DP World, and His Excellency Massimo Baggi, Swiss Ambassador to the UAE, inaugurated the expanded plant at a ceremony attended by senior DP World and Jafza officials including Mohammed Al Muallem, CEO and Managing Director of DP World, UAE Region and CEO of Jafza; Jamil Haddad, Chairman, Al Bayader International and Nidal Haddad, Founder & CEO of Al Bayader International, government and private sector leaders and employees of the company.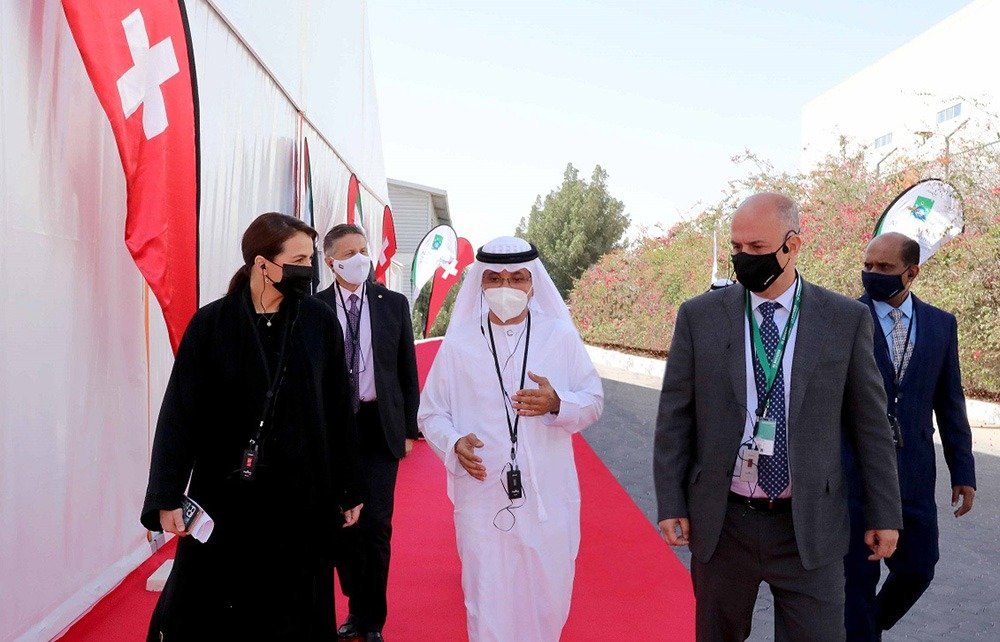 The Al Bayader International plant in Jafza South further complements the industrial strategy of the UAE to create additional in-country value creation and an expanded portfolio of 'Made in UAE' products that not only meets the needs of the nation but also are exported to several European, Asian, South American and African nations. The plant also completes a self-sustained industrial ecosystem as it has advanced technology to manufacture its own machinery and moulds.
H.E. Mariam Bint Mohammed Saeed Hareb AlMheiri said: "Strenthening national food security and ensuring that food distribution and storage are followed to the highest standards of safety are a national priority for the UAE. Through safe, high-qualty and hygienic food packaging solutions, we can prevent food waste as well as conserve our raw material resources. As a nation committed to supporting the UN Sustainable Development Goals to end poverty and enhance food security, we support enterprises in the F&B sector. The newly expanded facility by Al Bayader International serves the national goals and will also contribute to our local manufacturing ecosystem."
H.E. Sultan Ahmed bin Sulayem, said: "The strategic location of Jafza serves as a leading trade and logistics hub, connecting businesses to over 3.5 billion consumers with the support of Jebel Ali Port to thrive and strengthen trade relations with international markets. Building a logistics supply chain in the F&B sector, especially in the food packaging sector, which has been largely under-served, will enable the nation to boost the exports of these essential goods, and play a role in championing food hygiene and security. Al Bayader International's expansion of its facility, despite the challenges of the pandemic, underlines the reputation of the UAE in enabling innovative businesses to thrive."
H.E. Massimo Baggi said: "Switzerland has developed strong bilateral relations with the UAE in building the food and beverage sector, one of the few industries not significantly impacted by the pandemic. The growth of the Swiss F&B industry was also underlined by our investment in advanced packaging to preserve food and ensure quality exports. Al Bayader International's expansion of its manufacturing plant using high-end Swiss machinery will contribute significant value to the UAE economy by facilitating more exports and by supporting the domestic SME value chain."
Nidal Haddad said:"Al Bayader International is a company 'Made in the UAE for the World'. As our nation prepares for the next 50 years, with a stronger focus on domestic manufacturing and in-country value creation, we are privileged to play our role in strengthening the food packaging industry. The expansion of our facility is another milestone moment in our journey. We have always been committed to transforming our busines model and be an agile organisation that meets evolving market needs. Through this facility we can serve the entire food packaging supply chain through locally made products. We thank Her Excellency Mariam AlMheiri, His Excellency Sultan bin Sulayem and His Excellency Massimo Baggi for their presence at the opening, which shows the strong commitment of the government and national champion companies such as DP World to support and encourage homegrown enterprises."
The inauguration of the facility was followed by a tour of the factory by the visiting guests. Nidal Haddad provided them with an overview of the advanced machinery at the plant as well as the sustainability features integrated within the facility to make it eco-friendly. The expanded plant also highlights the industry innovation by Al Bayader International, which holds 10 patents of design moulds for food packaging solutions from the US Patents & Trademark Office.
Al Bayader International recently opened its flagship retail outlet in Dubai on Sheikh Zayed Road next to the Toyota showroom near the Oasis Mall. This complements the larger expansion plan of the group for 2021 to open more retail outlets across the UAE as well as grow its business footprint to Oman, Qatar and Saudi Arabia. The company already has four successful retail operations in Abu Dhabi, Ras Al Khaimah, Ajman and Al Ain. Imminent openings include Fujairah and a second outlet in Abu Dhabi.
Focused on safety, practicality, quality and innovative packaging, the company has set standards in food packaging led by its four core values of sustainability, design thinking, transparency and passion.
The company's products include single-use tableware, single-use food containers, baking moulds and sheets, bags & wrapping systems, cleaning & hygiene products, food decoration items, foil and film rolls, paper products, and bottles & jars. Al Bayader was one of the first accredited Middle Eastern packaging companies to obtain the Hazard Analysis Critical Control Points Certification (HACCP) – and the BRC grade AA by the end of 2018, an internationally recognized standard.
With a dedicated team of over 1,000 employees from 30 nations, and the support of over 400 business partners and over 9,000 satisfied customers, the company delivers unbeatable value to the global food and beverage industry.
With an extensive product portfolio of over 1,700 products, Al Bayader International owns and operates six manufacturing and nine logistics locations. The Company leads several GCC markets with a substantial market share, while steadily increasing penetration into markets further afield, including Europe and Africa.
Al Bayader International serves supermarkets, hypermarkets, convenience stores and the global F&B industry through hotels, casual dining restaurant chains, cafeterias, coffee shops, catering companies, foodstuff traders, airlines, hospitals and more. Headquartered in Dubai, Al Bayader International's UAE manufacturing plants are located in Sharjah and Jebel Ali.
Share
Looking to set up your business with Jafza?
Schedule a call with Ebtesam Al Kaabi, Head of Sales at Jafza.
Get started